Located along the natural white sand beach in Nakijin Village in Okinawa Prefecture is Resort Hotel Bel Paraiso, with an extensive and breathtaking ocean view. Nearby the Hotel are numerous sightseeing spots including Nakijin Castle Ruins, a World Heritage Site; Kouri Island, a mystical and spiritual island; and the ever-popular Churaumi Aquarium.

Our spacious guestrooms are over 45㎡ and boast spectacular views overlooking the East China Sea. Our guests will enjoy the relaxing and comfortable layout of our rooms with a separate bathroom and toilet. Come and enjoy the resort lifestyle to your heart's content.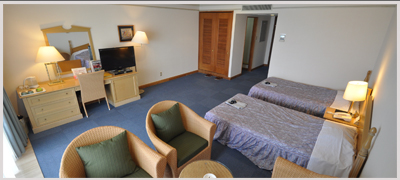 Our guestrooms, with an area of 45㎡ in each room, are some of the most spacious in all of Okinawa. It's also convenient and nice to have separate bathrooms and toilets.
The gradation of colors during sunset is a spectacular sight which can be enjoyed from the balconies. The blend of colors from blue, green, red, and yellow which gradually transform to a brilliant purple will take your breath away.
In the distance, you can see the island of Kouri, and on clear days, Iheya and Izena Islands are also visible in the distance.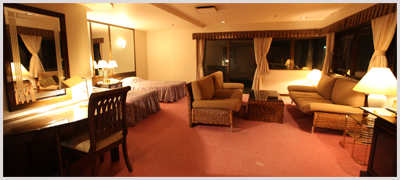 Orchestrating an extra-luxurious resort atmosphere in our very spacious, 75㎡ guestrooms.The tatami mat room offers a delightfully comfortable space to enjoy with your family and friends.The guestroom has a separate bath and toilet, as well as a marble shower booth.The spacious balcony and large-sized windows offer a panoramic view of the East China Sea.Reasonable rates offered throughout the year.We welcome you with an additional \5,000 per person!Come and enjoy a luxurious stay.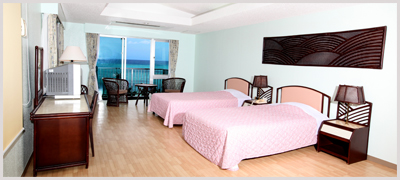 Up to five guests can enjoy their stay in comfort in our 50m2 guestrooms.The cottages surround our heart-shaped pool.Our guests can head to the beach located nearby in their swimwear to enjoy an active and fun-filled resort stay.



Within the Hotel are a western-style restaurant, Tropical Wins, and a Japanese restaurant, Sango-Tei.Our seasonally-operated outdoor garden BBQ restaurant also offers delicious foods.Enjoy an after-meal awamori and karaoke at our Kusu (matured awamori) Bar, Kaito.

Breakfast is an important meal to start your day on the right foot. Come join us at Sango-Tei which offers delicious breakfasts with local Okinawan ingredients. We also offer creative and mouth-watering dishes for dinner which are also prepared with local ingredients.
Breakfast 06:30-09:00 Open year round.
Dinner 18:00-21:00 Open year round.
One cup of overlooking the East China Sea is particular kit. Around the Ryukyu cuisine, offers a cuisine that take advantage of local ingredients. Please enjoy and awamori dishes using seasonal ingredients of chef proud.
Business Hour 17:30-24:00(Last order23:00)
※several times Available Others year December 31 year-end regular holiday

After enjoying the beach and/or pool, visit the Parlor in your swimsuit and cool down with a chilled, refreshing beverage.

Business Hours 11:30-16:00
From mid-July to mid-September.

The sounds of the waves are the natural background music here. Come and enjoy the pool-side and seaside barbeque.The best time to come is just before sunset. Barbeque Garden is open seasonally, from the end of April to mid-September.
Dinner 18:30-21:00
From the end of April to mid-September.

Available for groups up to 30 persons. Our skilled chefs will delight your taste buds.

Up to 30 persons.




Uppama Beach is Okinawa's marine sports paradise.In the local Okinawan language, "Uppama" means "expansive beach."The snow-white beach stretches for over a kilometer and the emerald-green waters of the East China Sea is breathtaking.The level of transparency in the waters is next to none. Come enjoy the wide variety of marine sports we have to offer.
Beach activities are offered from April to September. 9:00-18:00


Enjoy a relaxing resort stay by the heart-shaped pool. You can also kick back and relax on our well-kept lawns.Offering more convenience! Newly installed poolside shower and washroom offers more convenience for our guests.
Pool activities are offered from April to September. 9:00-18:00


Zakka 10 offers Okinawa's awamori, snacks and confectionaries, sundries, and daily necessities. We have a wide selection of goods available. Awamori is especially recommended for souvenirs!We can also arrange a delivery service for your purchases.
<Business Hours>7:00-12:00 15:00-21:00


Our spacious and open Lobby will welcome you with comfortable sofas and massage chairs. Sit back and enjoy the relaxing atmosphere. Our Hotel workers are Okinawans and can offer you local sightseeing information that you may not find in guide books. Please don't hesitate to ask us!
Coin-operated laundry available.



For those of you concerned about leaving your pet(s) behind while you go on vacation: worry no more!Stay with your pets in our Hotel.Accommodation with your pets is offered in our cottages. Just outside your door is a lawn garden that leads to a beach that stretches over a kilometer. Enjoy a relaxing walk with your pet without worry.
Note:
Up to two pets (dogs) per guestroom.
Limited to pets (dogs) that are toilet-trained and those that do not bark incessantly.
Limited to pets (dogs) that are vaccinated and immunized (for rabies, etc.).
Please keep your pets (dogs) in their cage(s) while in the guestrooms. Do not let pets onto the beds. Do not bathe pets in the guestrooms.
Large dogs that do not fit into cages are asked to stay outdoors.
Please be reminded to bring goods and necessities for your pets.
Dogs are not permitted in dining areas.
Please notify the Hotel on the breed and size of your pet(s).
Please note that we may refuse accommodation with your pet(s) under certain circumstances.
Please note that the guests are liable for any damage, breakage, and/or soiling and will be billed for repair and/or cleaning expenses.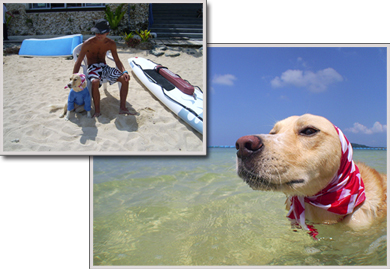 Located approximately 120 minutes from Naha Airport by car, you can experience a delightful Okinawan vacation at Resort Hotel Bel Paraiso. Our convenient location offers access to local historical sites like the Nakijin Castle Ruins and the mystical Kouri Island, as well as other various sightseeing destinations.Convenient access to and from the renowned Okinawa Churaumi Aquarium as well as to nearby islands.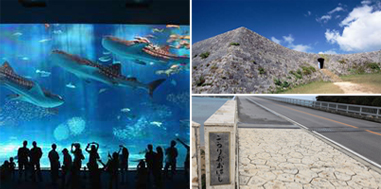 Credit cards are accepted for accommodation payments.



1069, Unten, Nakijin-son, Kunigami-gun, Okinawa 905-0403, Japan